Warning
: chmod(): No such file or directory in
/home/lesdecisfj/www/wp-includes/plugin.php(441) : runtime-created function
on line
1
Warning
: chmod(): No such file or directory in
/home/lesdecisfj/www/wp-includes/plugin.php(446) : runtime-created function
on line
1
Warning
: chmod(): No such file or directory in
/home/lesdecisfj/www/wp-includes/plugin.php(452) : runtime-created function
on line
1
Warning
: chmod(): No such file or directory in
/home/lesdecisfj/www/wp-includes/plugin.php(457) : runtime-created function
on line
1
Warning
: chmod(): No such file or directory in
/home/lesdecisfj/www/wp-includes/plugin.php(461) : runtime-created function
on line
1
Warning
: chmod(): No such file or directory in
/home/lesdecisfj/www/wp-includes/plugin.php(441) : runtime-created function
on line
1
Warning
: chmod(): No such file or directory in
/home/lesdecisfj/www/wp-includes/plugin.php(446) : runtime-created function
on line
1
Warning
: chmod(): No such file or directory in
/home/lesdecisfj/www/wp-includes/plugin.php(452) : runtime-created function
on line
1
Warning
: chmod(): No such file or directory in
/home/lesdecisfj/www/wp-includes/plugin.php(457) : runtime-created function
on line
1
Warning
: chmod(): No such file or directory in
/home/lesdecisfj/www/wp-includes/plugin.php(461) : runtime-created function
on line
1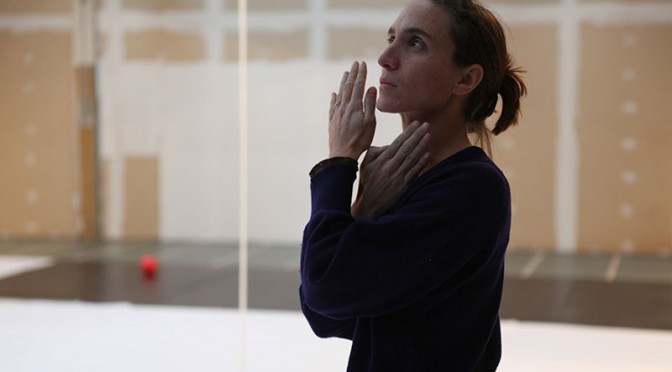 Je peux dire en parlant de mon travail : « porter cette intériorité au milieu du monde ».
Chorégraphe, danseuse, interprète auprès de Bruno Meyssat, Régine Chopinot, Olivia Grandville, Thierry Thieu Niang, Phillip Gehmacher (...) Clara Cornil traverse ses expériences avec une curiosité aiguisée pour le corps - médiateur d'écriture, figure, sujet, événement.
En 2004, elle fonde la compagnie Les Décisifs en Champagne-Ardenne.
Au sein de son travail de création, Clara creuse ce qu'elle nomme le "corps-matière traversé" : " traverser la forme et ce qui fait signe pour creuser au delà du sens. Dans le silence du hors temps, se décoller du visible ".
Trois formats d'écritures et de réalisations dessinent sa démarche artistiques aujourd'hui : les pièces chorégraphiques pour plateaux, les propositions in situ, les projets de territoires.
Des espaces de réalisations, de partages et de transmission en parallèle des créations tissent le fil du travail dans le cadre d'ateliers, de laboratoires ou de projets de transmission.
Clara Cornil construit une écriture en dialogue avec d'autres disciplines artistiques en invitant des collaborateurs au sein de ses créations notamment Catherine Delaunay, Pierre Fruchard et Lê Quan Ninh, ( compositeurs et musiciens ), Martine Altenburger (musicienne), David Subal et Johann Maheut (chorégraphes et plasticiens ), Anne Journo, Julie Salgues, Blandine Stora (artistes chorégraphiques), Sylvie Garot et Jean Gabriel Valot (créateurs lumière), Mylène Lauzon (poète), Frédérique Ribis (réalisatrice) Sylvain Thomas (photographe).
Les créations : Là ( 2004), Bruisse (2005) Concert chorégraphique, Haïkus (2006), Portraits Intérieurs, Pose #1 (2007), (H)AND(S) (2009), Noli me tangere (2013),.. qu'une griffure de lumière (2015-16), Calligraphies pour un paysage (2017)
En collaboration avec David Subal : Dans les bois (2010), Home (2011), Mobil'home (2012), a piece of land (2014), Yuj (2015).
En collaboration avec Martine Altenburger et Jennifer Walshe : My dog and I (2017).